Kendall Jenner meme generator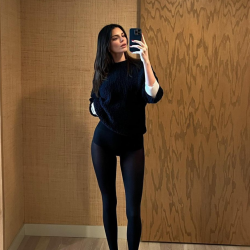 Kendall Jenner, a prominent member of the influential Kardashian-Jenner clan, has carved out a formidable niche for herself in the world of fashion, television, and social media. Her striking features and dynamic personality have solidified her status as an internationally recognized supermodel and influential figure, making her a subject of interest and, at times, humorous internet memes.
Kendall Jenner first shot to fame with the family reality TV show, "Keeping Up with the Kardashians," a platform that opened doors to modeling opportunities and brand endorsements. Her stratospheric rise in the modeling world has seen her grace the runways for high-end brands such as Chanel, Balmain, and Victoria's Secret, with her unique charm and poise.
But as with any high-profile celebrity, Jenner hasn't escaped the internet's playful side. Memes, the currency of modern digital culture, have often centered around Kendall and her famous family. Some of these memes are funny, some are sardonic, but all contribute to the digital zeitgeist that surrounds the Kardashian-Jenner dynasty.
One such meme took off when Kendall starred in a widely criticized Pepsi ad in 2017. The ad depicted a protest where Kendall hands a can of Pepsi to a police officer, seemingly resolving the conflict. The internet responded with a flurry of memes, many of which satirically suggested that Pepsi could solve world conflicts or mend societal divides.
Another meme-worthy moment occurred during the 2018 Met Gala. Kendall's choice of a simple white jumpsuit amidst the extravagant attire typically associated with the event led to a surge of memes. Internet users quickly juxtaposed her understated look with grand, over-the-top outfits worn by other celebrities, with captions like "When you have the Met Gala at 8 but a business meeting at 9."
One of the more recent Kendall Jenner memes centered on her tequila brand, 818. The launch video saw Kendall dressed as a farmer amidst agave fields, sparking a wave of memes from internet users who found the scene unconvincing and out of touch with her reality as a celebrity.
Despite the occasional controversy, Kendall continues to navigate her career with grace and resilience, never shying away from the limelight. Her story is a reminder of the immense public scrutiny that comes with fame, encapsulated in the very memes that poke fun at her. Yet, it's this same public interest and engagement that has played a pivotal role in Kendall Jenner's rise to stardom. Through it all, she remains a compelling figure in modern pop culture, one meme at a time.