Success Kid meme generator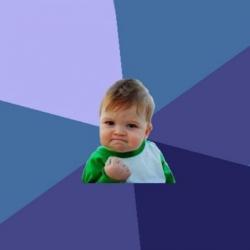 believe it or not the original photo for this meme was taken way back in 2007. It featured heavily on the social media site MySpace (what's that you ask?, ask Justin Timberlake. He will tell you!). It originally was a meme about the child in foreground hating Sand Castles and an image of another child standing amongst the ruins of a destroyed sand castle.
The current meme, was first submitted to Reddit.com's AdviceAnimals sub-reddit in early 2011 and has gone on to being one the most successful memes of all time.