Miley Cyrus Wrecking Ball
Wrecking Ball is a song by Miley Cyrus the daughter of Billy Ray Cyrus and is probably best known for her Disney character Hannah Montana. it is the second single from her new album Bangerz. "We can't stop" being the first song from the album.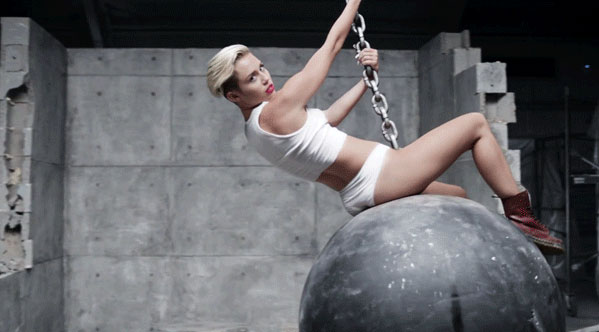 So why are we talking about it?
Just about anything Miley becomes a meme these day. However after the twerking incident with Robin Thicke at the  2013 MTV Video Music Awards, Miley memes have hit fever pitch. In her latest film clip she sits on a fake wrecking ball whilst in various levels of attire, yes she even gets naked..
like most of these popular videos it has spawned any number of spoof/, parody and fan videos that have become memes in their own right. One the most popular of these is by BBC Radio's Greg James
The press is full of stories about Miley at the moment, from the above mentioned twerk on MTV to the break up with her Aussie fiancée Liam Hemsworth. She appears to be going a little off the rails at the moment and everyone wants to give her grief over it. We here at MAM say "haters backoff". Leave Miley alone, We all go through different phases in our lives, it is part of being human. She is blowing off steam and having fun. Why not cause some waves while you are doing it.
If you want us to add Miley or for that matter any other personality to the standard memes, just let us know.
---